Sign up to receive 10% off your introductory Fascial Stretch Therapy session! Please go to booking page to schedule.
*For new clients only
Meet Joanna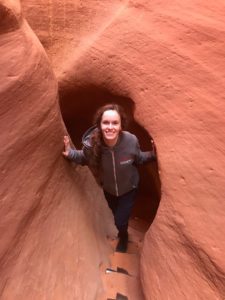 Joanna is a Level 3 Fascial Stretch Specialist, and part of the Stretch to Win Institute Teaching Team. She began in athletics doing gymnastics and has always had an interest in flexibility and movement. She is a graduate of Arizona State University with a Bachelor's degree in Exercise and Wellness.
Using Fascial Stretch Therapy
Joanna uses Fascial Stretch Therapy to treat a wide variety of clients and loves helping people through the power of FST. She comes from a gymnastics/CrossFit coaching background, so she loves seeing athletes learn new skills and reach goals. She uses that skill in a different way by teaching at STWI. She enjoys teaching to see students bloom into practitioners ready to spread the love of FST! Her interests include comic books, wrestling, and video games.